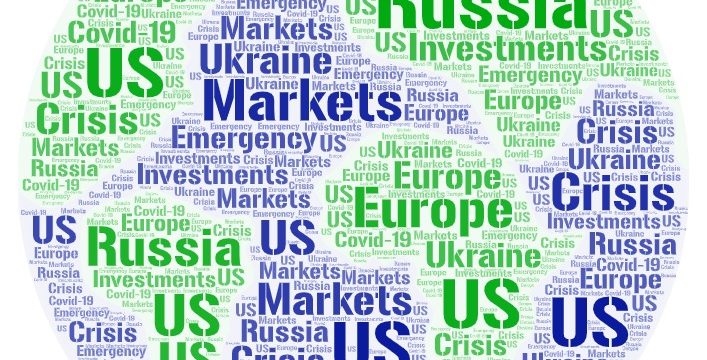 Market Concerns – February 2022
As I am sure you are aware, tensions have increased between Russia and Ukraine in the last 24 hours following weeks of political manoeuvring, which has seen and global stock markets come under some pressure. Clearly this has been exacerbated following the reported skirmishes and bombings in the region overnight (23/24th February).
Whilst we cannot predict what is going to happen in Ukraine or for that matter stock markets, we can review previous similar events and also ensure that our portfolios are appropriately diversified.
Recent history has shown us that markets are recovering a lot quicker than was previously the case and this reinforces the opinion, that it is important not to panic in these times and to hold your nerve. Clearly a panic sale of investments will crystallise the loss whereas, when we look back over the last couple of decades; we have experienced extremely turbulent times, and yet our portfolios have continued to increase in value. This takes into consideration the market falls we have experienced in early March 2020 due to the Covid 19 pandemic, mid 2007 due to the Global Financial Crisis and the 2000 Dot Com Bubble just to name a few, and within a matter of months portfolios had recovered.
In fact, we would go so far as saying that the volatility gives increased opportunities for purchasing quality assets at reduced prices and as such further potential for increased long term growth. Whilst we understand many of you will be concerned about what is happening both economically and socially, it is important not to panic and make irrational decisions. We have built well-balanced portfolios that match our clients' needs and attitude to risk and capacity for loss which are diversified across asset classes, regions and sectors.
We will continue to monitor the situation and update you all accordingly, however if you have any queries please do not hesitate to contact us.
For clarification of any points discussed above and any future independent advice regarding your own financial planning, please do contact us on 01626 833225 or email [email protected]
Have you visited our website recently? Click the link to see our recent changes and to subscribe to our regular updates www.loughtons.co.uk
Important Information
The views and opinions contained herein are those of Loughtons Independent Financial Advisers and may not necessarily represent views expressed or reflected in other economic communications, strategies or funds.
This document is intended to be for information purposes only and it is not intended as promotional material in any respect. The material is not intended as an offer or solicitation for the purchase or sale of any financial instrument. The material is not intended to provide, and should not be relied on for, accounting, legal or tax advice, or investment recommendations. Information herein is believed to be reliable but Loughtons Independent Financial Advisers does not warrant its completeness or accuracy. No responsibility can be accepted for errors of fact or opinion. This does not exclude or restrict any duty or liability that Loughtons Independent Financial Advisers has to its customers under the Financial Services and Markets Act 2000 (as amended from time to time) or any other regulatory system.
Loughtons Independent Financial Advisers is a trading name of JPRS (South West) Limited. JPRS (South West) Limited is authorised and regulated by the Financial Conduct Authority.